The Slaylok split is the Women's specific twin offering in our split line up.
Taking inspiration from Shotgun split, the Slaylok split utilizes a tighter turning radius, narrower waist and softer, more responsive freestyle flex to allow female riders to have a powerful board but built for their foot size.
In other words, you can shred as hard as on a men's board (no floppy noodles at Prior!), and the board is responsive edge to edge, as its width is custom made to the dimensions of your foot!
Its symmetrical shape promises maximum performance riding both regular or switch. 
Serial No. : 1079
Topsheet: Fast Fox
Base: Crown Tips Yellow / Blue
Available for immediate pick-up in Whistler, ships within 1-2 business days.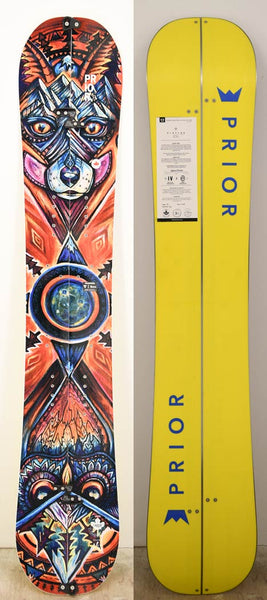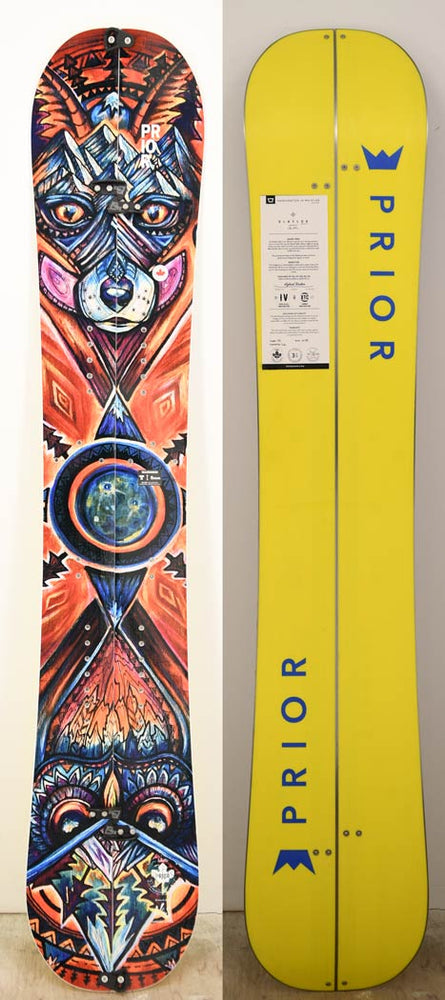 Tech & Features
The Slaylok Split is our Women's specific twin. Taking inspiration from the AMF Split and Shotgun Split, the Slaylok Split utilizes a tighter turning radius, narrower waist and softer, more responsive freestyle flex to allow female riders to have a powerful board but built for their foot size.
Its symmetrical shape promises maximum performance riding both regular or switch. 
---
Rider Type & Best For
Rider Type
From beginner to intermediate to advanced to expert riders, this board has it all! If you are looking for a fun twin board that allows you to ride anything you want the way you want, you found your match.
Best For
Progression, dialing in new tricks, shredding hard and and all mountain riding in both directions.
---
CHEAT SHEET
CAMBER: Hybrid Rocker
SHAPE: Twin Shape
FLEX: Twin Flex
CORE: Vertically Laminated Aspen Poplar core
BASE: 4001 Sintered DurasurfTM Base Diecut
AVAILABLE CONSTRUCTION: Quad-axial E Glass or XTC Carbon
SIDEWALLS: UHMW polyethylene sidewalls
View Full Spec Sizing Sheet
---
Camber
Hybrid
Provides flotation and predictability in powder and silky smooth transitions edge-to-edge with excellent edge control. 2-4mm of traditional camber underfoot provides energy from turn-to-turn.

---
The Finer Details
---
Further Customization
Custom Shapes

The Prior shop has been making custom "one off" snowboards since 1989. The layout and design of our factory has been built with this in mind. We can make a board to pretty much any shape and flex pattern you want. The following chart outlines prices for common revisions to existing templates:
| | |
| --- | --- |
| Description | C$ surcharge |
| Custom flex (softer or stiffer)     | $70* |
| Narrowing waist | $150* |
| Widening waist | $150* |
| Full Custom Shape: total price +taxes      | 2000 |
 *These prices are estimates, and are variable depending on the shape and your specific request. Over 1cm of widening needs a custom template.
To apply one of these additional requests to your order, simply search on the website the word "custom" and pick whichever item applies and add to cart along with your order. Write any notes in the additional notes section and we will be in touch if we have any further questions.
Complete Custom Shapes
If your dream board requires more than the revisions listed above please email us with your ideas. Some discussion will be required to determine the best performance results. Ultimately the price will be determined by the complexity of the project.
Lead Times
6-8 weeks upon confirmed order.
Extra Notes
Above surcharges are in addition to price of board.
Prices may change depending upon degree of difficulty.
length restrictions = 197cm
width restrictions = tip/tail 33.5cm, waist 28.5cm
Custom Graphics
Prior has been offering custom graphics since 1989 and provides a complete custom topsheet and base graphic service. This is ideal for riders who want a one-of-a-kind look on their Prior board, and for companies who desire special corporate gifts and/or promotions. Custom Topsheet fees are single set up design fees, and are required for tooling cost coverage. Custom to-sheets can be applied to multiple product and charges are split accordingly. Please contact us for any further enquiries or to begin the design process.
Topsheet Artwork
Topsheet design and colour options are almost unlimited. We can print topsheets of photo color quality. All topsheets are sublimated onto a white, matte nylon topsheet for a professional look and finish. (sorry we cannot sublimate onto a clear topsheet material therefore clear windows are not an option for one off customs). Above prices based on receipt of art in digital file format in either of the following formats:
* For art that is done in vector based (ie. Illustrator or similar) program we require artwork in PDF or AI format.
* For bit mapped based art (ie. Photoshop or similar) we require TIFF, PSD or PDFformats. The File size must be 300 DPI in rectangular shape that measures 6cm longer than desired board length x 34cm wide. Note that files will likely be in excess of 100MB and can be sent by Dropbox etc or dropped off at the factory.
Base Artwork
Prior offers diecut custom bases in one to three colors. As base colors are cut with a drag blade knife, so there are some design limitations. We ask that you first email a low res jpeg file to us for review and approval.
For any custom topsheet or shaping project you will need to contact our sales staff for guidance and accurate quotes. Please email  us at orders@priorsnow.com or call 604 935 1923 to chat about your custom artwork or other custom options.
Timing
Our build times vary based on production volume and seasonal needs. We always aim to have your order built within 4 weeks of confirming your order. Sometimes this time will vary but rest assured we are putting the time and effort into hand building your custom ride!
For full custom orders build time is typically 6-8 weeks due to the supplier requirements for non-inventory items.
Afraid you won't have your order in time for your big mission or trip? Don't worry we will do our best to accommodate rush orders that are communicated to us at orders@priorsnow.com
Shipping
Prior ships everywhere!
All shipping is calculated at customer checkout based on weight and destination for delivery.